Here's what's possible tomorrow:
Your students are reading (and learning from) stories and articles they couldn't understand today. Each student is working with different high-interest material. Our exclusive
Learning Sessions
are
actively teaching
them their own customized word lists. Students are typing, listening, and learning words
in context
at the speed that's right for them.
At Educator Central, you get detailed information that drives smart teaching decisions: learning errors, reading time, and more. Instead of typing and grading, you're designing interventions, putting resources where they're needed, and fostering achievement and learning.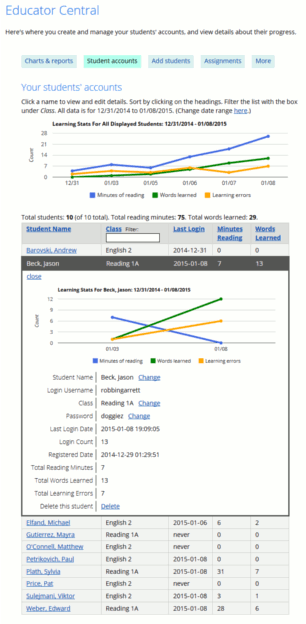 Rewordify.com is where this happens. Starting now, you can:
Create and administer student accounts: Student accounts are anonymous. No personal information is needed. Student registration information is never publicly displayed. You can assign students to classes, administer passwords, and more.
Watch your students actually use the site: The user interface is fast, easy, and intuitive. Students of all ability levels on any Internet-connected device can start reading and learning quickly.
Get detailed student learning information: Charts and reports give you the information you need to know to make wise instructional decisions—by class, by student, or overall. Click here to see all the charts and reports. Know how many minutes students are reading, how many words they've learned in Learning Sessions, and the errors they're making: spelling, recall, cloze completion, and others.
Post any document for reading and learning: Post and share text passages and reading assignments that support your curriculum. Students can adjust the text difficulty and how the hard words are displayed to suit them. It's built-in differentiation by readiness!
Assign reading assignments: Create assignments from any document on Rewordify.com, including any document you posted. Get detailed student reading and learning information from the assignments you post. Know what your students read, the time they spent reading, and the words they've learned (and are still learning).
It's easy and free
Rewordify.com is easy to use, allowing you to do what you want and get the information you need in a few clicks or taps, on any device.
Everything on Rewordify.com is totally free: you can start using any feature you want right now in your classroom or throughout your whole district.
There's nothing to purchase or install. Use it now!
All you do is log in (or register an account) and click on the Educator Central link at the top of the page: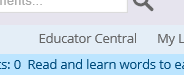 The best place to get started is the Educator Walkthrough, which takes you through everything, step by step. In a short time, you'll know how to do everything on the site!